We were heading up to the Tutukaka Coast to start filming our documentary and so many uncertainties were going through our heads.
Our goal – to film a story with Crispin and Irene Middleton where they take us on a mission to capture photos of a fairly common but extremely elusive fish – the crested weedfish. Our plan was to head out and try to find them at Rocky Bay – just north of Tutukaka. High winds and big swells were forecast – not ideal for taking small boats out around the coastline. We were also doubtful if we were going to find the fish in the small filming window we had – let alone one that put forward a good photo opportunity.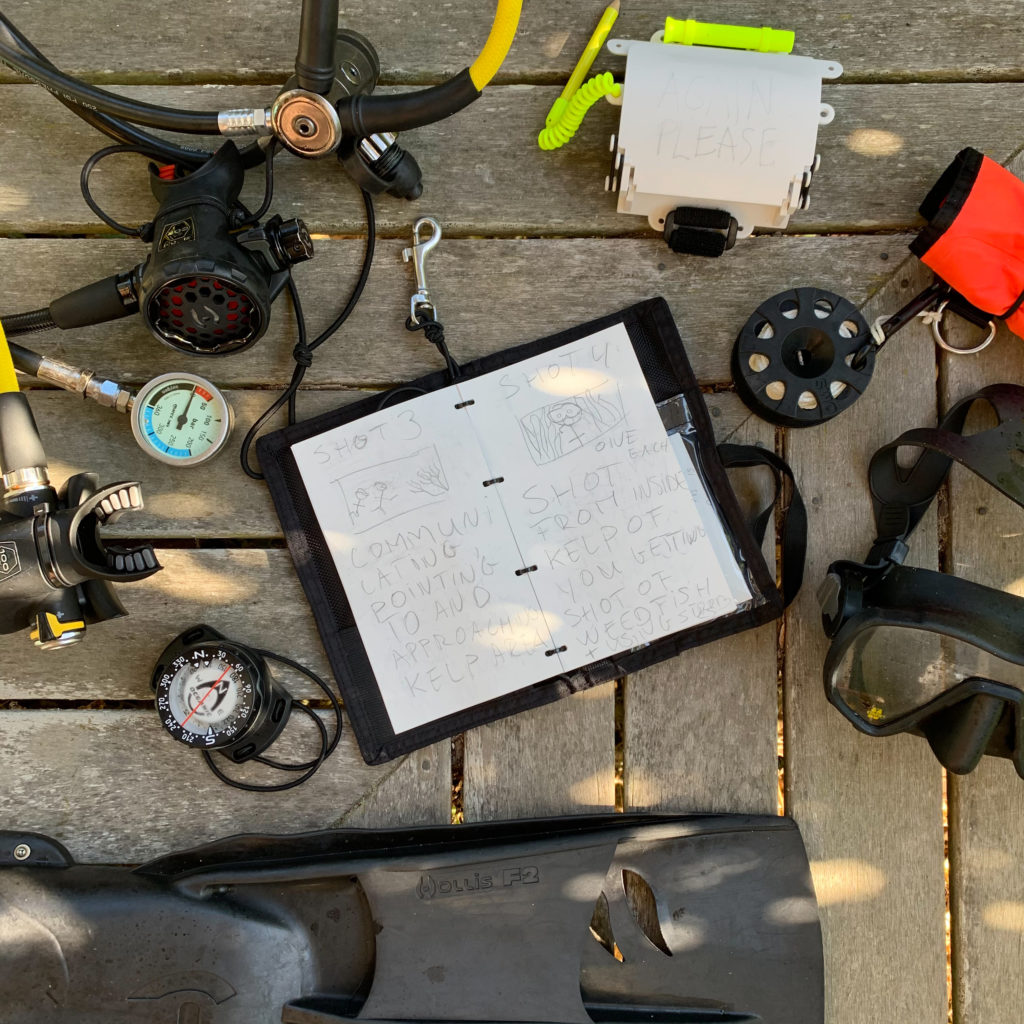 The night before the first day of filming we caught up with Crispin and Irene (amazing underwater photographers by the way) and decided to spend the first day capturing a sequence about them as divers out at the Poor Knights Islands. We left early and it's safe to say it was a rough ride out there!! Aart and I were busy transferring our digital shotlist of what we wanted to capture onto our wetnotes books and started to go over some specific hand signals of specific directing cues that we had to get right to make the most out of our dives. Meanwhile, a few of our crew are getting very very seasick!
Dive 1: Trevors Rock
This was a very intense dive, looking back now I wish that I had told everyone to slow down a little bit. This was our first time diving with Crispin and Irene and one thing I learnt is that they are very fast at swimming. Here we were moving from scene to scene, directing them with hand signals and exchanging cameras for different shots all whilst struggling to keep up! Safe to say that dive was over fairly quickly, but we did manage to get some incredible shots. The rest of the crew had fun at the surface snorkeling amongst the huge schools of maomao.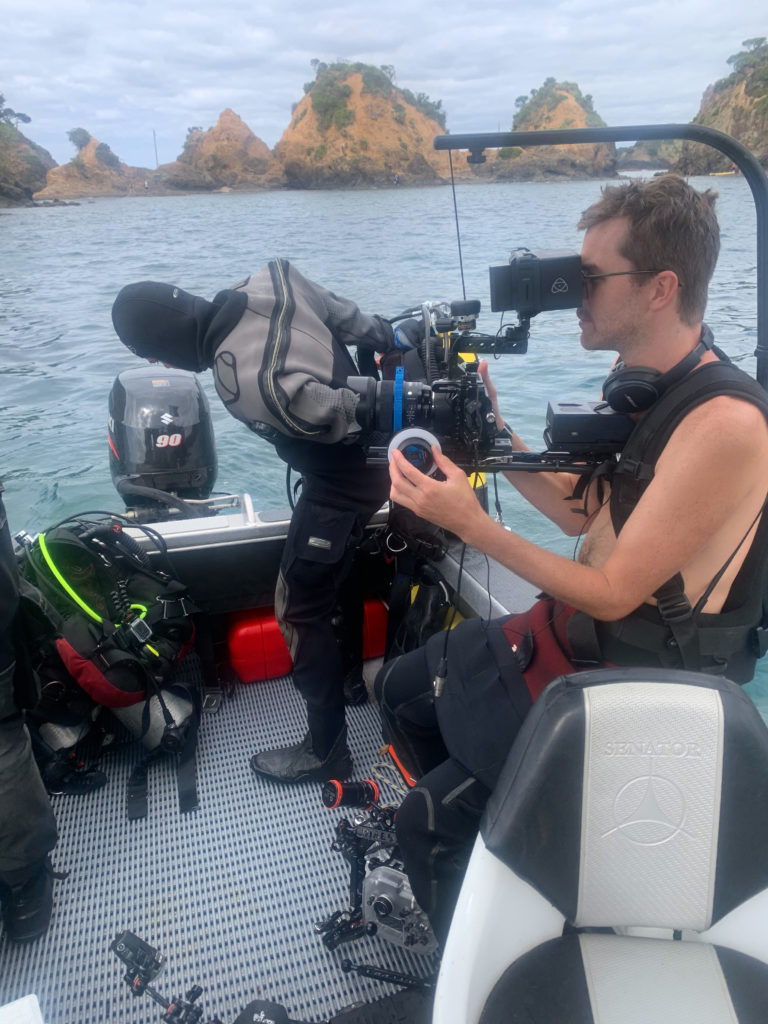 Dive 2: Middle Arch
We decided it was a good idea to quickly head into the cave to the left of the archway so we could have it to ourselves for a few minutes before the rest of the divers on the boat got there. When filming people underwater, I find a super-wide field of view a really good way to get the person and the scene, topography, or big schools of fish in – you can be fairly close to the divers (meaning you see them clearly through a shorter distance of water) but still have the entire diver in the frame. At the end of the dive while on our safety stop we got some great shots of them in the light and colourful shallows of 5m; often one of the easier environments to shoot in!
It was a successful first day of shooting and it was followed by a compulsory beer at Schnappa Rock when we got back to Tutukaka.
Now, all we had to do was find the fish. The next day was absolute rubbish weather-wise. We turned up at their place with the aim to do all of the interviews and some shooting around their home preparing for the trip. The wind and the swell were still looking too dicey to be taking the small boats around the coastline. We had planned a few contingency days the following week and that was becoming closer and closer to being our last chance to go out and find one of these cute little weedfish. We packed up our gear and headed back to Auckland, with a hard-drive full of great Poor Knights footage, interviews, and shots of them at home but not much of the actual weedfish trip that was to make up the heart of our film.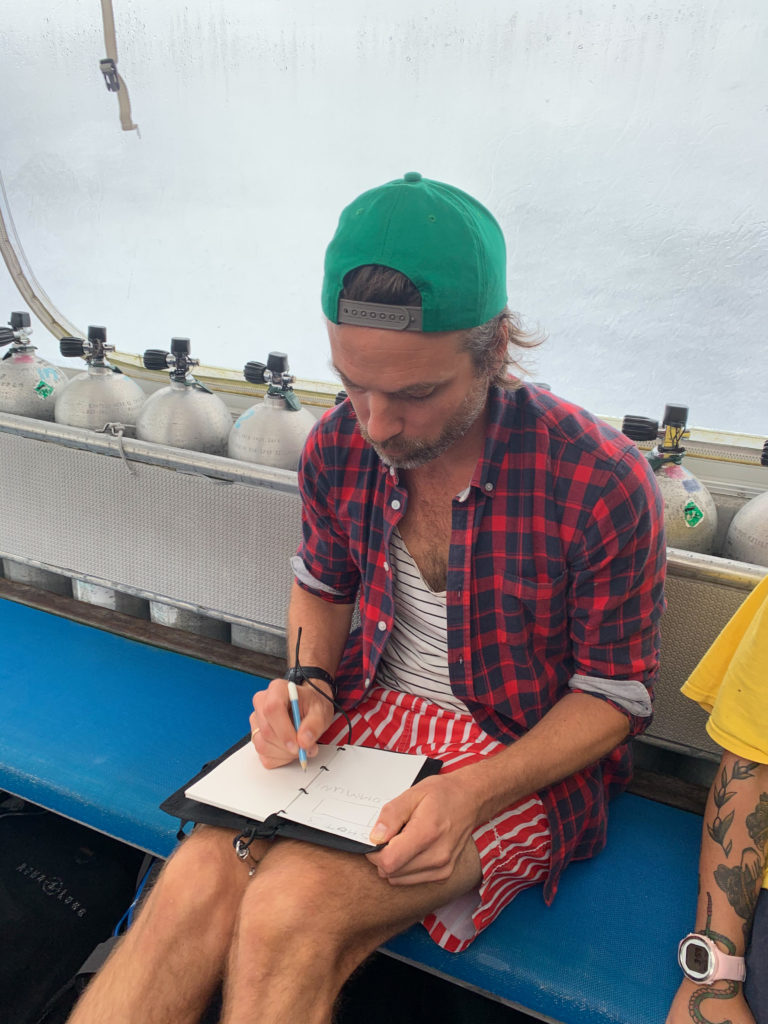 Dive 3: Rocky Bay
The following week we returned to their home in Ngunguru, the forecast was looking better and we were already into the swing of things with the filming we had done in the previous week. We left the marina with two boats – Miromiro (Crispin and Irene's boat) and the other was one that we hired as a support boat for crew and equipment. Loaded with tanks, camera equipment, and some delicious lunch made by our producer Zoe we headed out around the headland toward Rocky Bay. We hopped in the water where Crispin and Irene were hopeful of finding weedfish and descended. Give the film a watch to find out what we came across. Without giving too much away – we didn't find the damn weedfish. The shallow dive ended up being pretty long anyway as we collected footage of what we found and combined with time spent shooting at the marina, drone, lunch, and the logistics of having our equipment on two different boats meant we didn't have time for a second dive. Bummer. Another day is done and no weedfish on the horizon.
If you haven't watched the film, stop reading this right now and go give it a watch because of warning… There are definitely spoilers ahead.
After the long dives in the cold the day before (made even worse with leaky drysuits), a rainy day gave us a good excuse to warm-up, re-group, and come up with a plan on where to go the following day to find one of these cute little critters.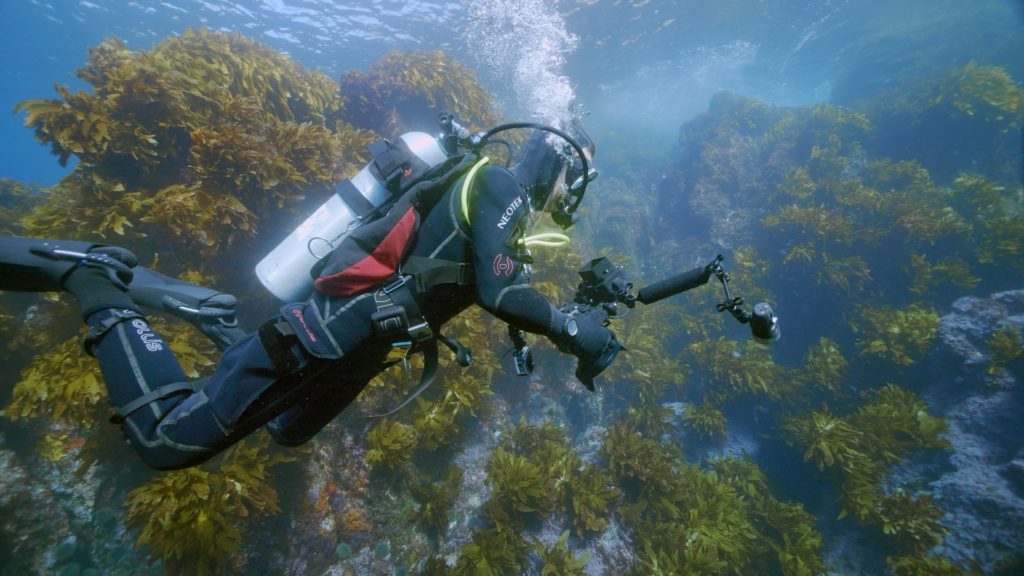 Dive 4: Rocky Bay
Off we went – the final day that we have with Crispin and Irene and all we need is to find a weedfish and have them photograph it. Further away from the coastline, but still inside Rocky Bay is where we hope to find a more appropriate habitat for them – more kelp = more weedfish. We descend and immediately see some much denser kelp. This basically means the weedfish will be there but they have much, much more places to hide. We are in their territory now!! Eagle-eyes Crispin spotted one and boom – the shot was captured. Trying to get some video of the thing afterward was a bit of a nightmare, we kept losing it in the kelp and Crispin re-found it a few times. We found it helped if one person was keeping an eye on where the fish was and one person was shooting, these things are insanely camouflaged – they burrow into the kelp heads, and even when their tail is sticking right out you still can't see them. I have had a few fleeting moments with weedfish in the past but after researching them and looking at other pictures of them in the lead-up to shooting for the past few months I was a little starstruck when I had a few minutes with one in the flesh.
SUCCESS. We found our fish! I must say that I have watched this section of the film SOOO many times now and to this day it still gives me goosebumps when they find it. Our editor did such a great job in creating a buildup to when they found it. I have had responses from people who watched the film and many have said that they were weirdly happy when they found the fish. A huge amount of kudos goes out to our editor Elisabeth who really nailed the build-ups and the moments of climax in the film.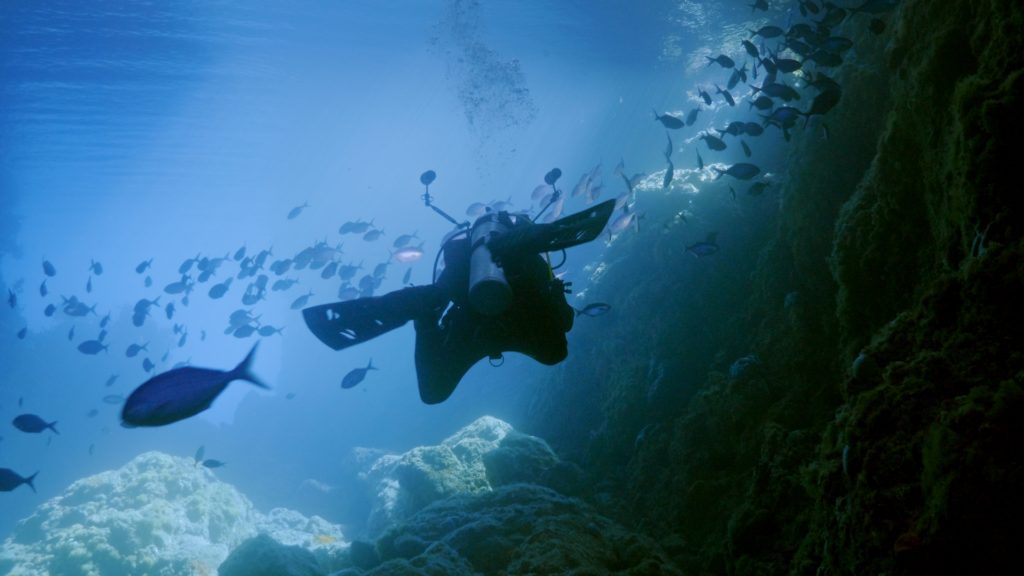 Dives 5,6,7,8: Poor Knights (Maomao Arch & Frasers Landing) and Leigh Coastline
Aart and I did a few more dives around Tutukaka and the Leigh coastline to collect extra footage of the ecosystem, kelp, barrens. On one particular dive at the Poor Knights, Aart was getting some footage of the different life we could find while I was getting wides of the kelp in the light when suddenly the light disappeared, everything went really dark and I swear the temperature of the water dropped too, well maybe not but it sure felt like it, and Aart felt it drop too at the same time. When telling stories about a particular place (in our case, the marine environment) it is often the details that remain in people's memories, capturing the essence of the place, how the light hits the rocks, underwater formations, light rays coming through the water column, people interacting with the space and of course the life that inhabits it; both big and small. One funny thing that happened is that on these extra dives we did for additional footage we actually accidentally saw around 3 weedfish – one of which was trying really hard to get in one of Aart's shots like it was just really keen to be a star. Bizarre.
In total, we did 8 dives to capture all the underwater footage for this film. All 8 were done on standard scuba gear and with single tanks. The deepest we went on any of the dives was 21.8m and we spent a total time of 370 minutes in the water over 5 days spread over March/April 2021.
We all loved making this film, we did it for divers, for fishermen, for kiwis, and for the ocean. Making something that will inspire people to think about the ways that they have an impact on the ocean is deeply rewarding. I believe that as scuba divers and lovers of the ocean it is our responsibility to inspire others to connect with it, whether that be through film, GoPro clips, or just verbal stories of your amazing diving adventures. We are the spokespeople of the ocean.