Master Scuba Divers – not to be confused with Divemasters – are considered to be part of an elite group of respected divers who have earned this rating through both significant experience and scuba training, with fewer than two percent of divers ever achieving this rating.
First of all, it's not a qualification, it's a 'rating'. That means it doesn't have a stand-alone course of its own, or any course material. It neither teaches you new skills nor qualifies you to do anything different when diving. Rather, the best way of thinking about it is that it summarizes your previous experience and wraps it all up in one neat title: Master Scuba Diver.
The path starts with earning your PADI Open Water Diver certification, followed by PADI Advanced Open Water Diver and PADI Rescue Diver (or qualifying certifications). You also need to earn five PADI Specialty Diver certifications and have logged a minimum of 50 dives.
A diver who has completed the requirements for Master Scuba Diver should be a capable diver, a responsible buddy, and have some experience of different diving conditions and scenarios, depending on what specialty courses have been completed. It is also a nice 'trophy' for the majority of divers who have completed all the recreational, non-technical PADI courses but will not go on to do professional qualifications. They have worked hard to get to that point and some kind of title to summarize their experience is a worthy reward.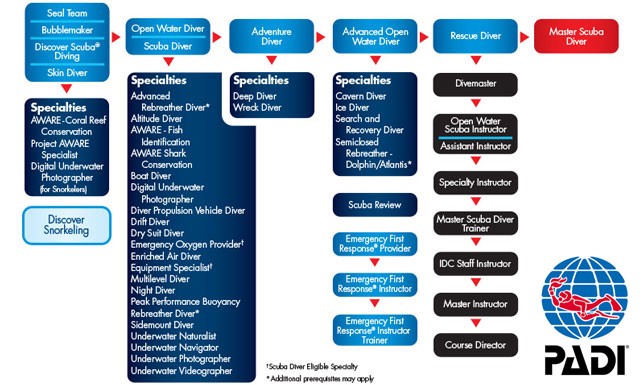 If you are interested in working towards your MSD rating, we are happy to work with you to come up with a diving pathway for you to complete the required courses and the specialties that interest you. As an added bonus, if you apply for your MSD rating before the end of the year, the application fee payable to PADI will be waived!
So give us a call today to get started!