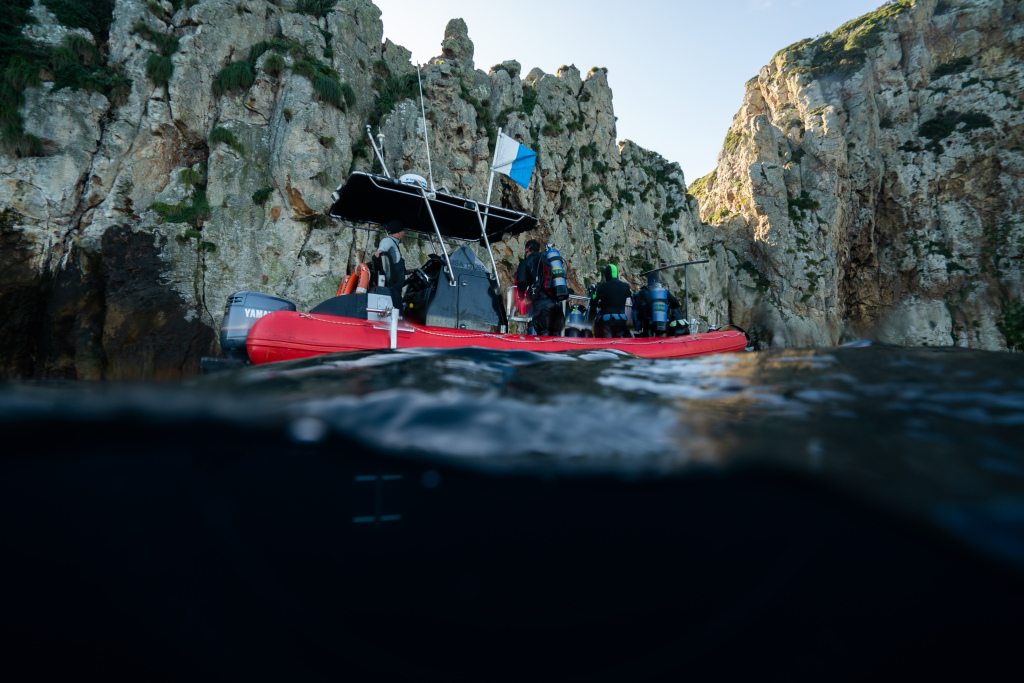 Whakaari Express at the Poor Knights
The forecast was looking good to do our PADI Advanced Open Water course at the Poor Knights Islands over two days in a weekend mid May. I had dived at the Knights two times previously and was really looking forward to getting back to one of New Zealand's most pristine marine reserves to get more certifications under my belt. 
I drove up on Friday evening after work and checked into the Tutukaka Holiday Park. I called it an early night and the next morning headed to Matapouri Bay to get some drone shots of the sun rising behind the islands! 
I headed to the boat ramp to meet everyone else at 8:00am and after quickly organising our gear, tanks and doing a quick safety briefing we were on our way over to the islands and our first spot. This would also my first time breathing enriched air so was looking forward to really experiencing the benefits of having 32% oxygen over 21%.
After a windy and wet ride over we were all ready to get into the water for our first dive. We cruised around the islands to check out some of the sites and Grant decided that the famous Blue Maomao Arch on the Eastern side would be the best bet, a world famous site that is said to be ranked number nine in the world by Jaques Cousteau – one of the fathers of scuba diving.
We stopped the boat and the visibility looked incredible. Looking over the edge we could see the bottom and lots of fish swimming around – our instructor Lachie decided this was a good place to do our Fish ID dive. This is a good one to start on to get re-acquainted with scuba and being in the water.
Even before dropping down we could tell this was going to be an amazing dive, there were lots of fish schooling under the boat and the archway looked ominous behind us. Finding fish to complete the fish ID task was not a hard one, my buddy and I quickly jotted some down on our slate and then set off to enjoy the dive. We enjoyed going through the arch, through some gaps in the boulders and looking at all the schooling Blue Maomao cleaning themselves on the rocks. Before we knew it the dive had to come to an end, we resurfaced and had a talk about the different marine life we saw. I was blown away at how great I felt after breathing nitrox, super fresh, no grogginess and didn't feel tired at all – I think I will use it more often…
It was now time to head to our second dive spot. We did a small tiki tour around some of the archways and caves around the island before heading to Diadema reef which would be the site for our Peak Performance Buoyancy dive. For this one we would fine tune our weighting, trim and buoyancy control. After doing this we had a look around the reef. I spotted a few colourful nudibranchs which was quite cool and lots of other marine life, much like all sites out at the Knights.
It was now time to head back to Tutukaka marina and drop off the fun divers to go out to the next bay (Gable Bay) for our Navigation dive. Being one of the more skill intensive dives we had to complete three navigation tasks – a reciprocal bearing, a square and a reciprocal bearing using natural navigation skills. The square task was quite difficult. You have to trust your compass over your natural sense of direction. Sometimes you are convinced your compass is leading you in the wrong direction until you see the anchor chain and you have to admit your sense of direction was wrong. 
The next day the forecast was set to be overcast and a bit rainy but the weatherman was wrong when we woke up to a crisp morning of blue skies and little wind. I knew this was going to be an epic day. We headed over to the marina and everyone was keen to get out there. Since it was such a nice day I decided to bring my camera along to take some photos and videos in my reasonably new underwater housing. We cruised over on the flat sea and headed to our first site which was Northern Arch for our Deep dive. I was really looking forward to this and one of the main reasons I was doing the Advanced Course was so I could go down to 30m. This site is at the northern most point of the Poor Knights so is renowned for big fish and great visibility. This vis was amazing I couldn't tell you how good it was, maybe 25-30m in the archway. We dropped down and headed for the archway, I was pumping with adrenaline, looking at the other divers in the distance it was hard to believe that I was actually in the place that seemed like a completely unreal world. Lots of fish, great vis and the blue depths were mesmerising. Dropping down to 30m was a unique experience that I loved. It was harder than I thought to control my buoyancy and amazing looking at the red square on the slate that hard turned to a dull almost grey colour. I compared my NDL to Lachies as I was curious to see the difference between his nitrox NDL and my air NDL. His was 51 mins while mine was only at 15 mins! Such a big difference! I took a whole lot of photos and videos and we cruised around looking at the fish life for a while before making our safety stop.
We then headed to our last site of the weekend for our last dive which was our Boat dive. Grant decided it was a good day to head to Sugarloaf which is a very exposed site mostly only diveable in calm conditions. I was stoked that we were able to make it to different dive sites that are usually too exposed to dive in. For the boat dive we talked about the different parts and areas of the boat and some safety protocols then headed in for our dive. I decided to bring my camera in on this one too. We dropped down and while the vis was not as great as Northern Arch, it was still incredible when compared to some of the shore diving I had recently been doing around the Hauraki Gulf. We cruised around and finished off a few of our navigation skills. There were HUGE crayfish just chilling on the rocks and a few big moray eels in some of the holes. We made our way about half way around the rock before doing our safety stop and surfacing. 
Doing the Advanced Course was such a great experience and I can now see that every time I go diving I am improving in my skills, getting more comfortable in the water and essentially enjoying the dives more. I am now itching to get back out again. If you haven't made it out to the Poor Knights Islands yet, I cannot recommend it enough. If you are from Auckland, we have a huge number of world class dive sites right on our doorstep only 3 hours drive away from home! As for me, next up will be my PADI Rescue Diver course!
Huge thanks to all the crew from Auckland Scuba Dive, Kiwi Divers, Grant (Skipper) and Lachie (Instructor) for making it a great weekend!
– Matt Silcock (PADI Advanced Open Water Diver)