November2018 Monthly Madness Prize –Oceanic Alpha 8 Reg and Octi, Zeagle Base Plus BCD and Compact Gauges
Jacket style BCD and Regulator combo
If you want simple but reliable, then the Oceanic's Alpha 8 Second Stages and SP5 First Stage regulator set used in conjunction with a compact SPG and Depth gauge module is a great starter package for any diver who wants a light, no frills piston regulator that still offers a solid performance.
The Zeagle Base BCD is a simple, yet tough and comfortable jacket style BCD for divers who prefer to use a weight belt.  Reinforced and fade resistant Cordura® 1000 denier nylon material is used to construct the bladder, shoulder straps, harness and pockets, giving the owner years of use from this BCD.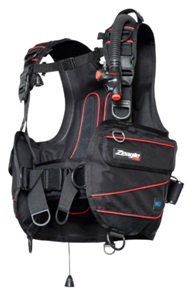 Spend $100 in store anytime during the month of Novemberto go in the draw!
 *Terms and conditions apply