March 2019 Monthly Madness Prize –Zeagal Onyx II 1st& 2nd Stage
Looking for a new regulator for our 'cold' New Zealand waters, then look no further than the Zeagle Onyx II Regulator. The Onyx II comes with a black chrome plated first stage which is environmentally sealed which means that none of the internal parts of this regulator are exposed to either our salt water or chlorinated pools.  By sealing this part off from the environment there is less corrosion of the internal mechanisms.
The first stage comes with 2 High pressure ports and 5 low pressure ports which means that you can always find space for that dry suit low pressure hose which we all know you need down here. The second stage is lightweight, compact and comfortable to use, the regulators comes with a pneumatically balanced downstream demand valve which allows for ease of breathing at all depths.
The onyx II was Scuba lab's testers choice regulator of the year in 2018.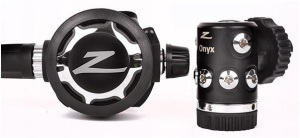 http://www.aucklandscubadive.co.nz/products/608-onyx-ii
Spend $100 in store anytime during the month ofMarch to go into this Draw!
*Terms and conditions apply