I have had my Bare AT1 Drysuit($2,250) for two years now and I love it. I didn't want to go back to a wetsuit when summer returned.
It is so light-weight and I have so much flexibility while wearing the suit. The breathable material has come in handy a couple of times as I've done some huge surface swims(1km) in current to get to dive sites you should really use a boat to get to. 
I was lucky enough to fit an off the shelf size per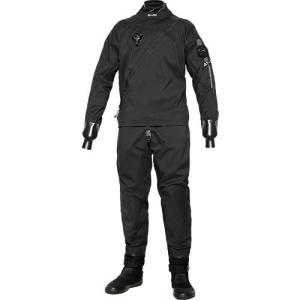 fectly beside the wrist seals which I've upgraded to Si-Tech seals for my wrists and I love the neoprene neck seal it came with. You can get measured up and get custom-fitted suits made to order or just get an off the shelf size with the correct sized boots fitted easily by Auckland Scubas Drysuit technician.
The thermal protection  I am using is the Bare CT200 polar wear undersuit which I found warm enough during a  90min dive in 12c water and even coming into summer the same undersuit in 23c water was super comfortable.  I usually just keep my clothes on as well and always come out dry.
The flexibility and comfort while in these two suits is amazing and I am really happy with my choice. I love my Drysuit!